Company Gifts, B2B & Private label
Find gift for employees or business partners branded in your corporate design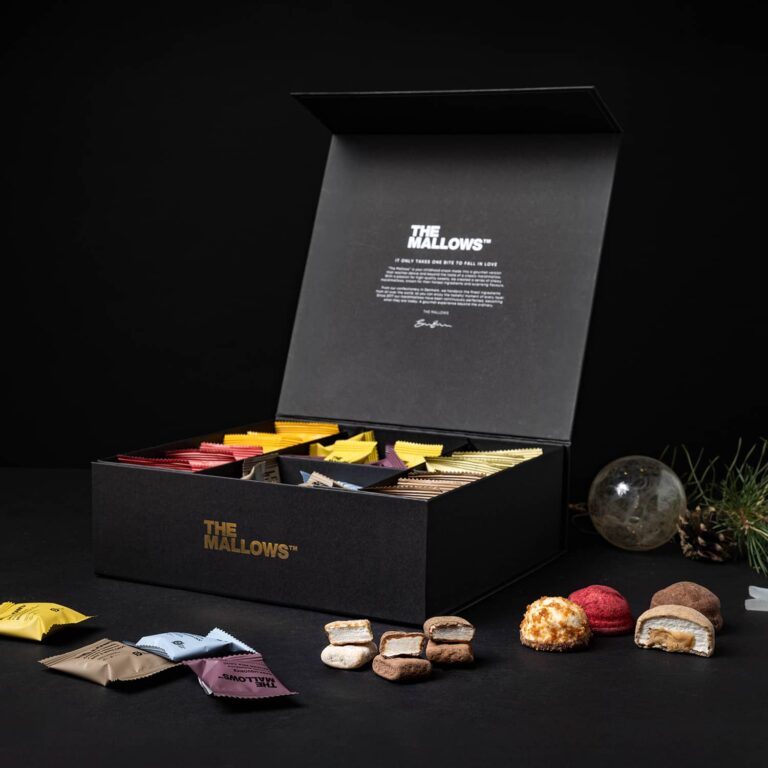 Treat your staff, your business partners or your clients to the perfect company gift of organic marshmallows with or without chocolate. Your company gift will bring joy, but choosing the right one requires special care. Our organic corporate gifts of homemade Danish gourmet candy is the ultimate gift idea, suitable for all occasions, and all year – including Christmas gifts for staff. The Mallows chewy marshmallows also fit beautifully in gift baskets.
Private labels are a unique opportunity to create brand awareness. Treat your clients or business partners to a gourmet candy experience with your own personal touch.
With a combination of text, logo, graphics, photo, and an exclusive organic product, this is your chance to create a tingling and tasty business card for your company.

Order easily and quickly. Save time and inconvenience by sending us your logo, and we will gladly assist with the design - completely free of charge. However, you are also welcome to send your very own design if you prefer.
Rates are in EUR and excluding VAT
Private Label with desired colors
Estimated delivery time: 3 weeks from final approved design
Before the production is initiated we will send you a file for approval.
Organic Danish company gifts that will spread joy among your colleagues
Your employees work hard for your company every day to create the best results. A company gift basket is the perfect way to say 'thank you' to an employee or colleague and express gratitude for his or her effort. Our gourmet marshmallows are natural and organic products all made from the very best ingredients. We promise your company gift with logo will bring a happy smile on your colleagues face. All our organic ingredients, from chocolate to licorice, are carefully hand picked and turned into a gourmet marshmallow like you have never seen before.
At The Mallows, we offer customized corporate gifts for both large and small companies. We are more than happy to help you find the perfect organic staff gift for any occasion. We guarantee that all our marshmallow company gift solutions and products are produced from the best carefully chosen suppliers. 
Our Mallows are both a sweet and a statement. You are guaranteed genuine joy from your employees or trusted clients by treating them to an unusually good and surprising taste experience. 
Please indicate your budget per person, and we will custom make an offer for you.
Our organic company gifts also taste good!
If your company has a green profile, it's a completely natural extension of your brand to choose organic sweets as company gifts. But an organic gift is not enough: it's also important that they taste good! 
We use only the best of the best in our Mallows: organic bourbon vanilla, Belgian chocolate, French caramel and Iranian licorice. The berries and fruits in our fruit mallows are of course also organic. 
We have 6 all-year-round organic marshmallows and 2 limited editions - all produced and packed in Denmark. In order for our exclusive marshmallows from The Mallows to be classified as organically certified and obtain the organic food label in Denmark, all ingredients must be produced on organic farms. 
We carefully select the suppliers for our chewy marshmallows, they don't just have to be organic: their products also have to be top class! This way you are ensured that your organic company gift will tingle the taste buds!
It's possible to pack all our organic marshmallows in a delicious hygienic flow pack, which of course can be tailored with your logo and message.
It's vital that your company gift is both a treat and creates positive associations
Company gifts basically have two functions: They are a way to say 'thank you' and a way to create a 'positive vibe' about your company. Gifts containing The Mallows organic marshmallows do that.
We guarantee that opening a delicious little package in a beautiful color will spread joy, which immediately sends the stomach into the 7th heaven. You get the perfect company gift with your own logo in the form of delicious coated or dusted marshmallows from The Mallows.
Contact us today for a customized offer, and get your very own edible organic company gift that is sure to delight!